As the weather cools down and we welcome fall, consider playing a round of golf on one of Broward's beautiful golf courses. Golf provides you the opportunity to enjoy the lovely weather and squeeze in some exercise. While it may not seem like you exert a lot of energy during a round of golf, let us assure you — you do! For extra exercise, consider walking the course rather than using a cart. That said, walking or riding, golf is beyond popular here. Read on to learn more about golf courses in South Florida.
Broward County Golf Courses
First of all, it should come as no surprise that there are many public golf courses in Broward County (and semi-private ones as well).  Some of the courses shared below are solely public, meaning anyone can play and they do not offer memberships.  Others allow the public to play, but also have membership opportunities that provide additional benefits to those who join.  Take a look at some of the most popular local courses.
Plantation Preserve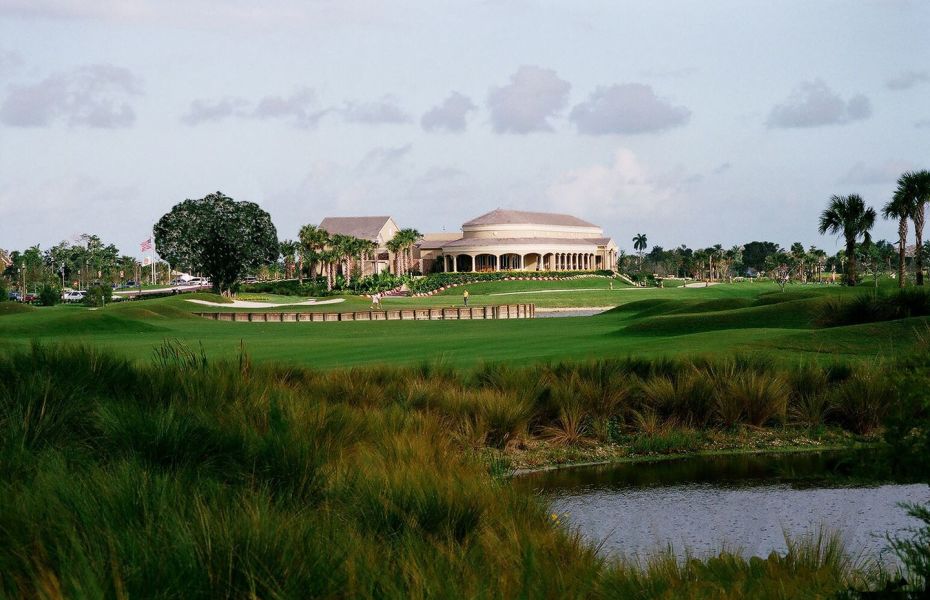 One of the newer courses in Broward County, Plantation Preserve is a par 72, 18 hole course. With five sets of tee boxes at each hole, the course is appropriate for a variety of different level golfers. Even better,  the course is pretty and there is actually a hole with an island green!
Consider this, all golf carts feature a GPSI system and there is a high end practice facility as well.  This area includes a driving range (with grass and mats), a large practice putting green, and even a practice bunker.  Thus, you can prepare for anything.  Remember, memberships (which offer a broad range of benefits) are offered at several price points. And, Plantation residents and Florida residents are provided a discount.  Most noteworthy, this course exhibits a country club like atmosphere and amenities.  Definitely take a look and let us know what you think!
Grand Palms Golf Course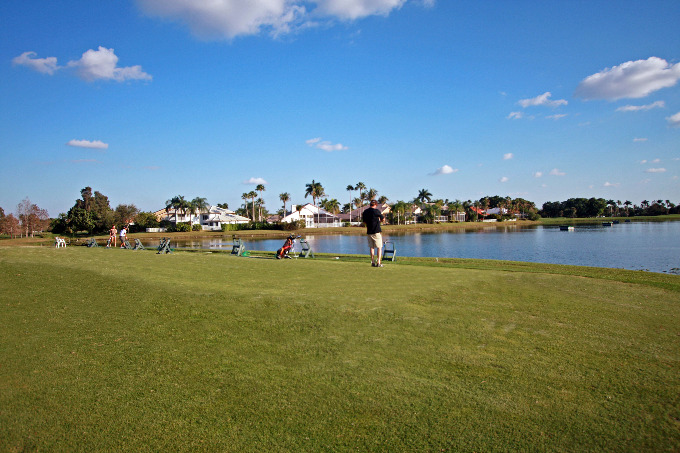 Grand Palms Golf Course is right in Pembroke Pines!  And, this is a special course.  First, there are 3 nine hole courses that can be played in varying combinations.  Golfers have an amazing variety.  Second, the courses are beautiful and their greens are top notch.  Additionally,  all of the golf carts are equipped with Par Global Positioning Units. This technology provides distances to hazards and flags as well as photos of the holes.  Hopefully, this will help you improve your score!  Of course, you can reserve your tee times on line.  Plan a visit to the Grand Palms Golf Course.  And, if you are looking for a "staycation spot" consider their resort.
Davie Golf Club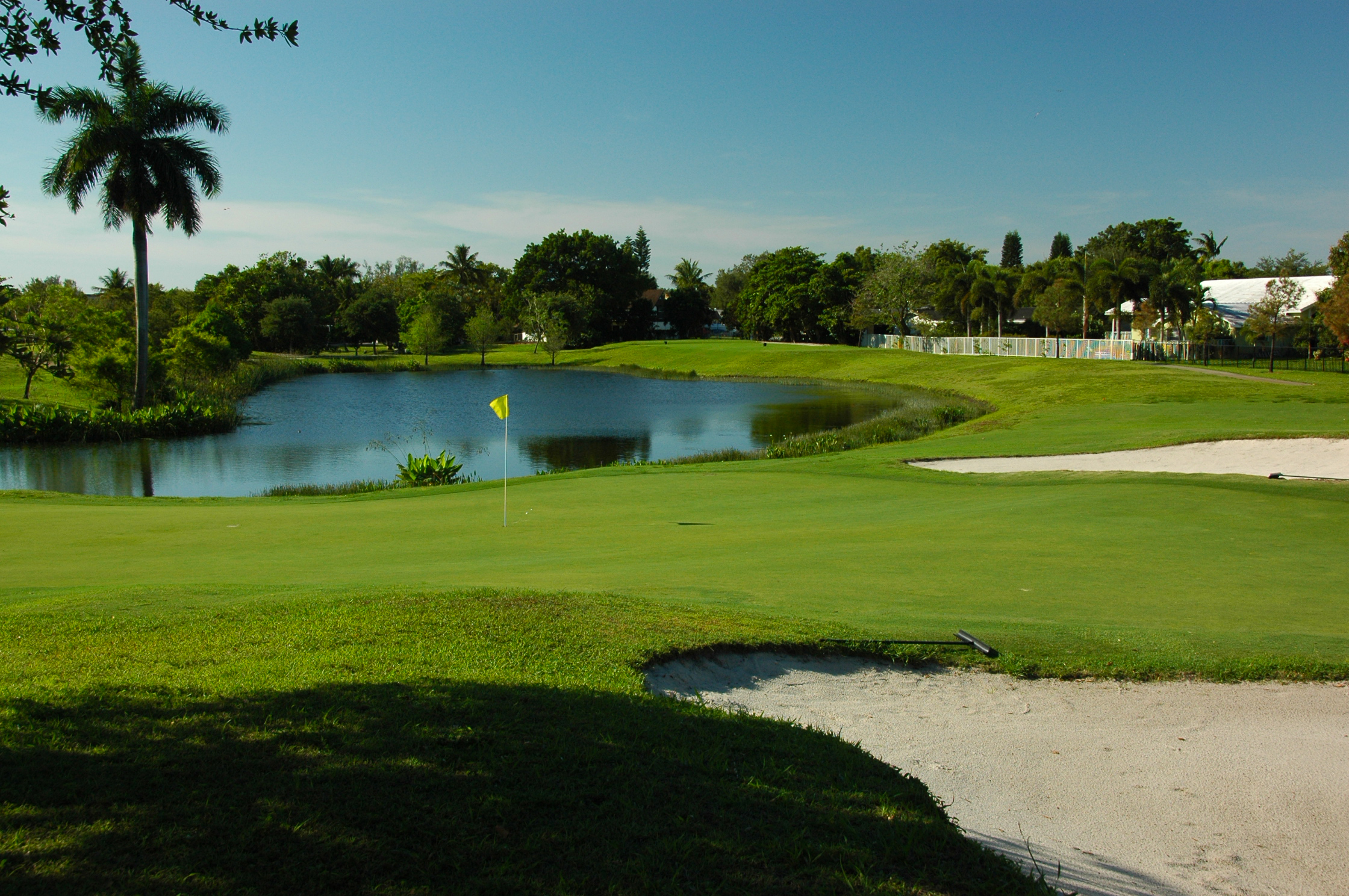 Located on Nova Drive, the Davie Golf Club is owned by the town and has been completely remodeled.  With four sets of tees at each hole on this 18 hole course, it is appropriate for golfers with a range of abilities. Many of the greens are multi-tiered.  Hence, they are extra challenging and fun!  Also, cart paths with IPar GPS units, run along all of the tee boxes.
Golfers can make their reservations on-line and up to seven days in advance.  Finally, the course also hosts events and outings that members of the public can enjoy.  This course is close to home and reasonably priced, check it out!
Pembroke Lakes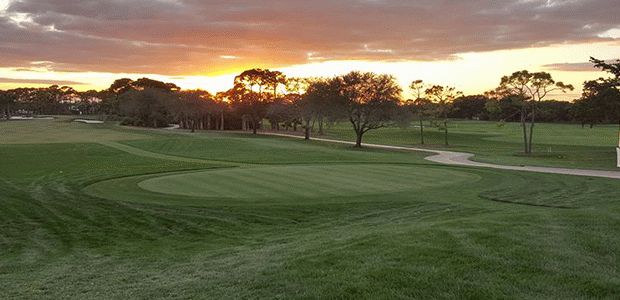 In December of 2007, this public course underwent a $7 million dollar renovation.  The upgrades included a new drainage system, a larger practice area with a practice bunker and a chipping green, new lakes and new EZ GO Golf Carts, each of which has a GPS System.   These improvements were well received by the local community.  Therefore, this is a popular place to play. Owned by the City of Pembroke Pines, golfers can reserve their tee times  4 days in advance.  Understand,  rates vary from time of year to time of day.  Pembroke Pines residents who purchase a membership are provided a discount. This membership provides a host of benefits which can be seen here.   Check out the course's website for more information including videos of each hole.  Happy golfing!
Palm Aire Country Club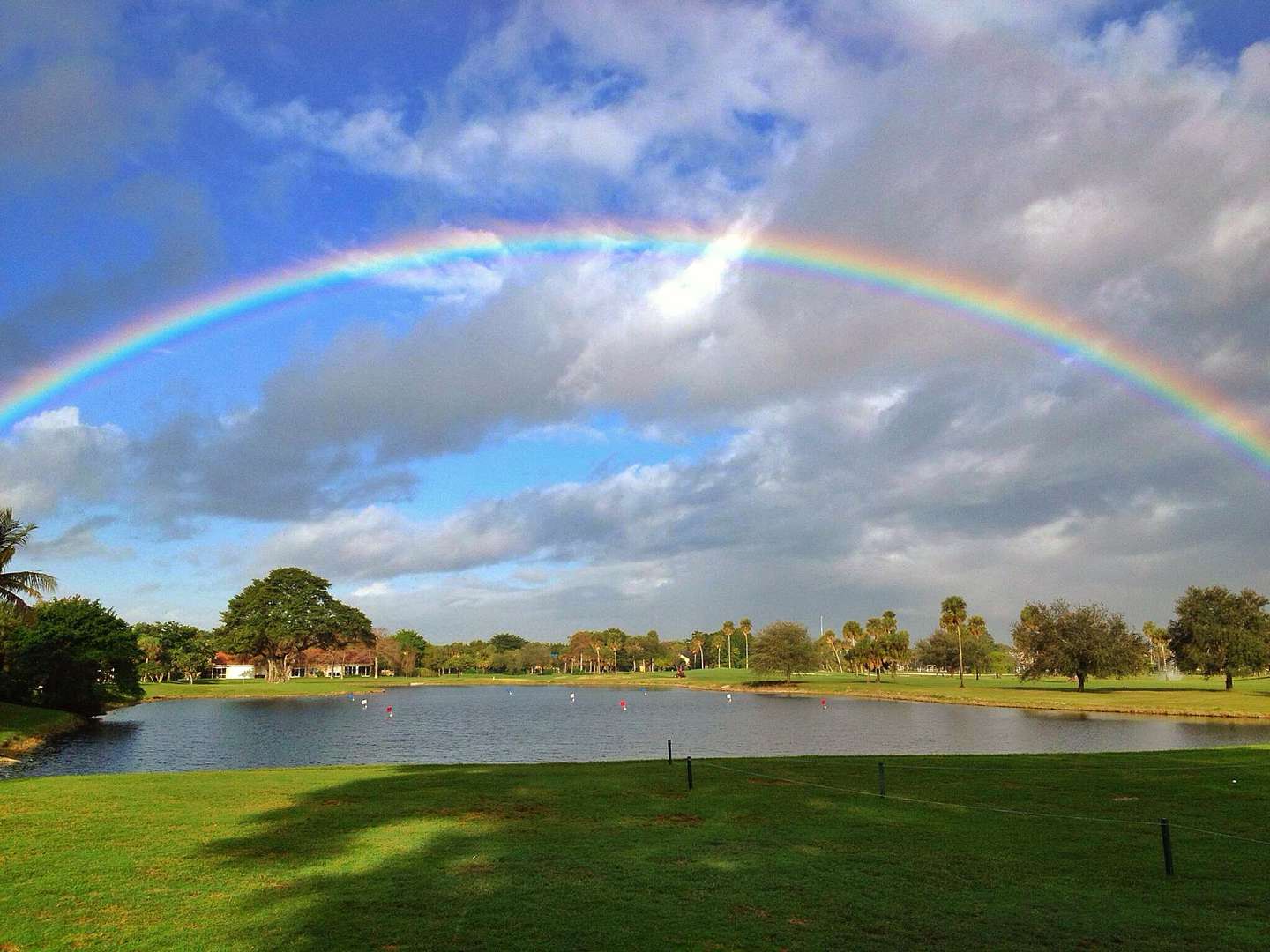 Located in Pompano Beach, this facility is home to three fabulous courses, The Oaks, a par 71, and Cypress and The Palms, both which are a par 72.  The Palms and Cypress both have five sets of tee boxes, and the Oaks has four.  That said, all three courses are well maintained, fun to play and open to daily golfers.  Golfers can reserve their tee times  online.  The club also has two driving ranges, two pro shops and a golf academy.  Definitely make a plan to play a round (or three) here!
Jacaranda Golf Club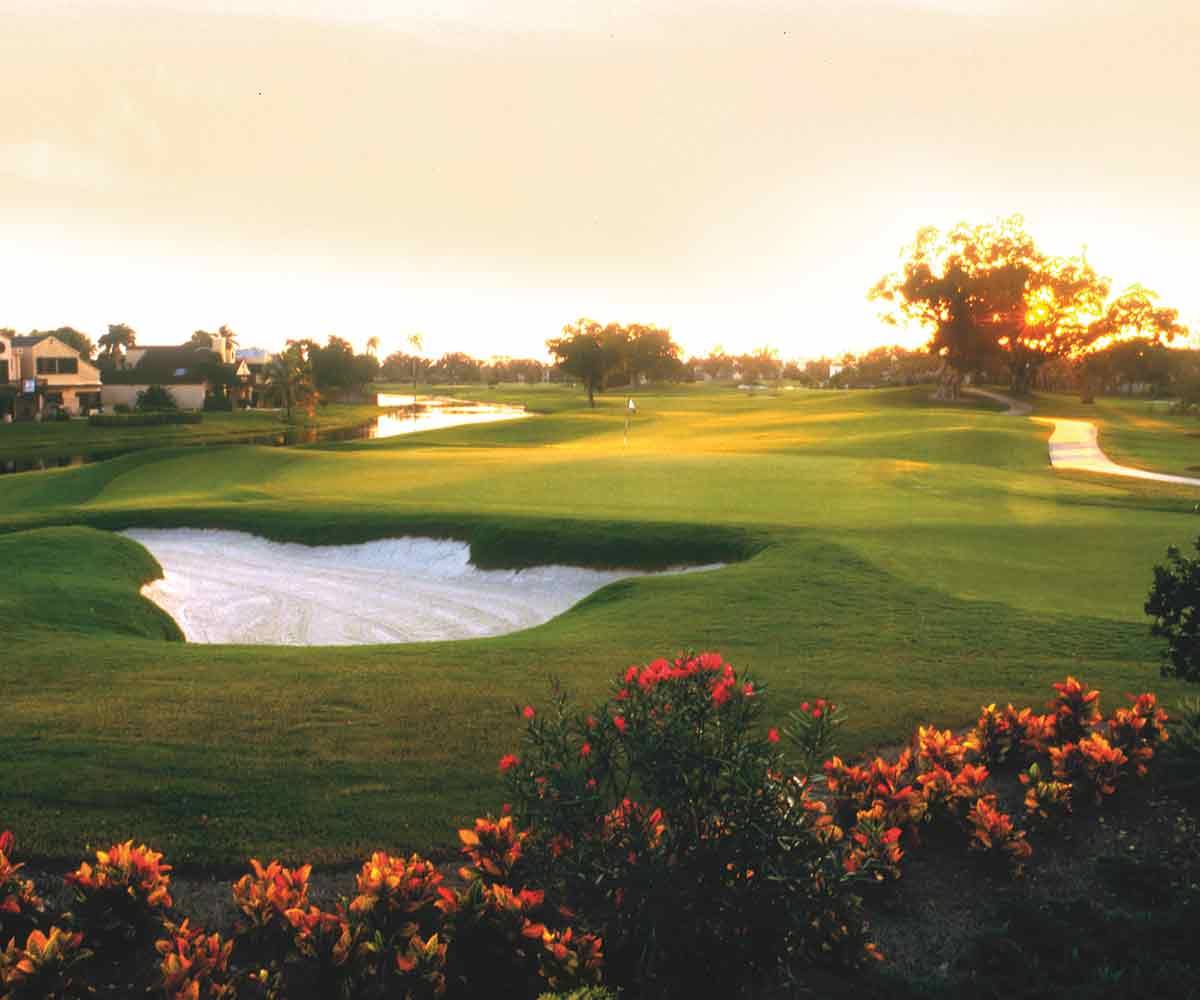 Most people who live in or near Plantation are familiar with Jacarada. It is a semi-private course;  they  sell memberships (which provide a broad range of advantages including reduced cart fees, advanced tee time reservations, events, discounts on merchandise and more) but are also open to Broward County residents. Also, there is also a golf pro on staff, so you can take lessons. This Club has two courses, aptly named East and West. Both are beautiful (with lots of sand traps and water);  a hole-by-hole description is listed on their website.
Finally,  on site are dining facilities that offer weekly specials.  You can grab lunch or even a drink with your friends when you complete your round. Check out both courses, play a few rounds; maybe you'll decide to become a member!
Deer Creek
Deerfield Beach is home to this fabulous 18 hole course designed by Arthur Hills.  Renovated in 2004, the course is beautiful and has a rolling landscape design.  Consider this, multiple different types of memberships are available. Consequently,  there may be one that meets your needs.  In addition to the top notch course, there is also a practice area and dining facilities.  Looking to learn the game?  Deer Creek  has a golf school!  Understand, in terms of courses, Deer Creek is a must see!  Play a round and see how you feel.

Eagle Trace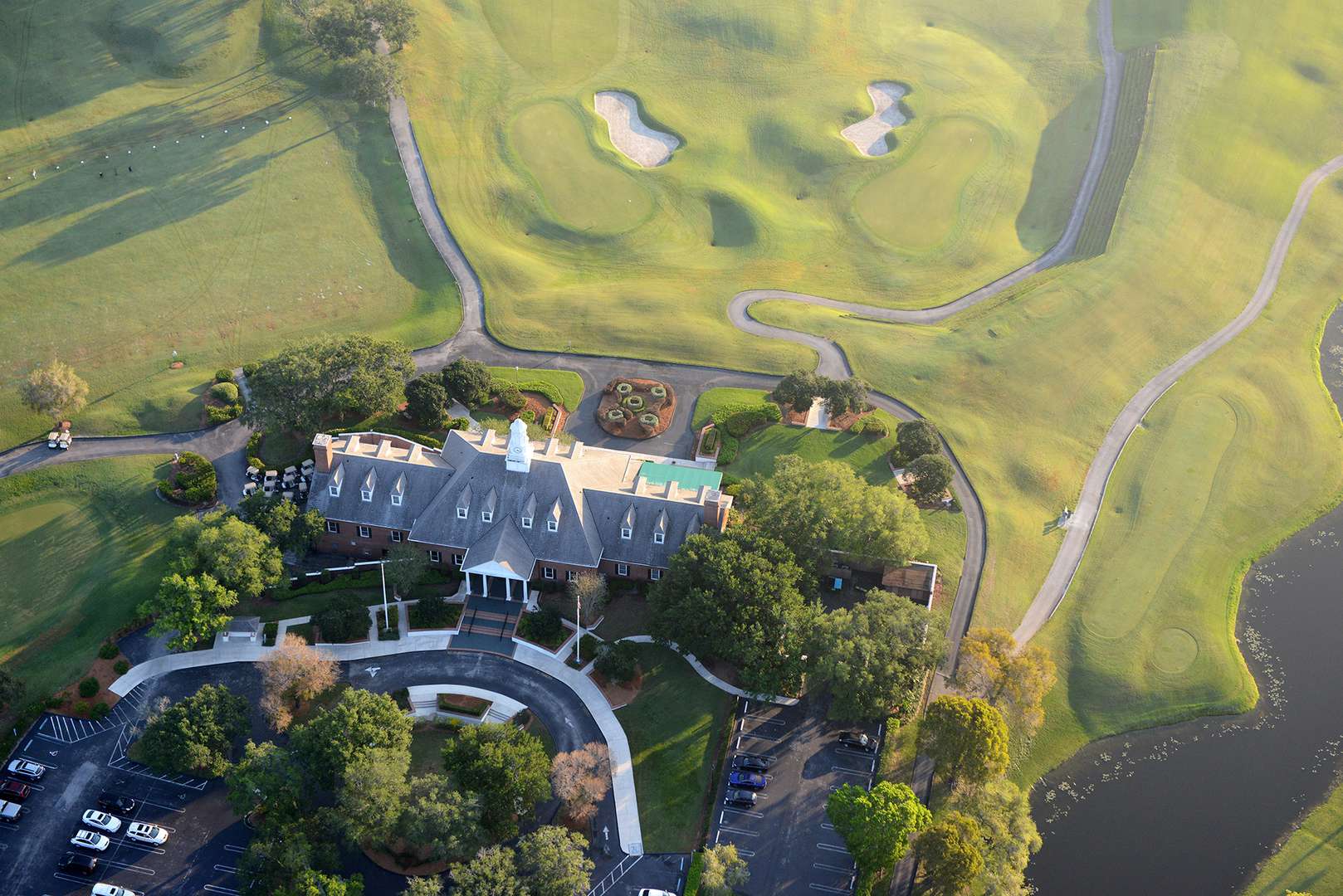 Eagle Trace, in Coral Springs, is a PGA quality course.  In fact, from 1984-1991 and in 1996 this course hosted the Honda Classic. The 18 hole course offers six sets of tees, providing the perfect game for each player. And, it even has a hole with an island green. On the whole, it is challenging!  Additionally, water and sand bunkers are abundant. As a semi-private facility, Eagle Trace offers a membership that provides many benefits including advance tee time reservations and access to other clubs in their family.  Golfers who are not members can reserve their times on line as well.  Check out this fabulous course, we curious as to what you think!
Boneventure Golf Club

Opened in 1970, this magnificent course is well known for hole number 3, best known as the waterfall hole.  Therefore, it is famous in our area!   This par 72 course is well maintained and has top of the line facilities.  First, there is a proshop,so you can pick up apparel or equipment.  Also, there is a locker room with shower facilities, quite a luxury. You can improve your game at the fabulous practice area.  It has mats and grass and two greens for putting to help you improve your game. Finally, you can grab lunch at the  snack bar or a bar and grill  before or after your play.
Memberships are available and the options are diverse. So, if you love this course, membership may provide you with significant value.  Golfers can book their tee times on line. Click here and check out their system. For those of us who live in Weston or a neighboring town in southwest Broward, this course's location is incredibly convenient.  Want to take a sneak peek at the course?  .
The Bridges at Springtree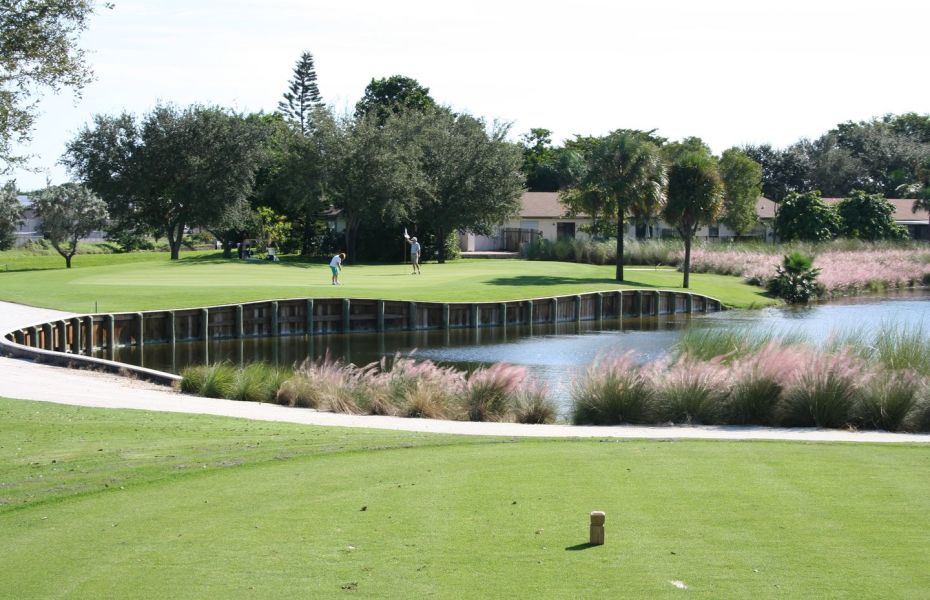 Located in Sunrise, the Bridges at Springtree was renovated in 2010.  Their beautiful and spacious clubhouse is home to  locker rooms, a proshop and dining facility.This par 62 course has four sets of tees on each of its 18 holes.  While somewhat shorter than some of the other local courses, it still proves challenging and fun to local golfers of all abilities.  Memberships are available with various discounts provided to Sunrise and Florida residents.  There is even one for junior golfers.  Non-members are welcome to play and can reserve their tee times 7 days in advance. Put this course on your list of places to play; the fees are reasonable.
More Courses
Obviously, we could not share a description of every public/semi private course in Broward.  However, here is a list of other public courses you should definitely consider playing:  Colony West,  Woodmont Country Club, Pompano Beach Golf Course, Woodlands Golf and Country Club, Carolina Club, Heron Bay Golf Club, The Club at Emerald Hills,  Oriole Golf Club, and Coral Springs Country Club.
Golf Practice in Broward County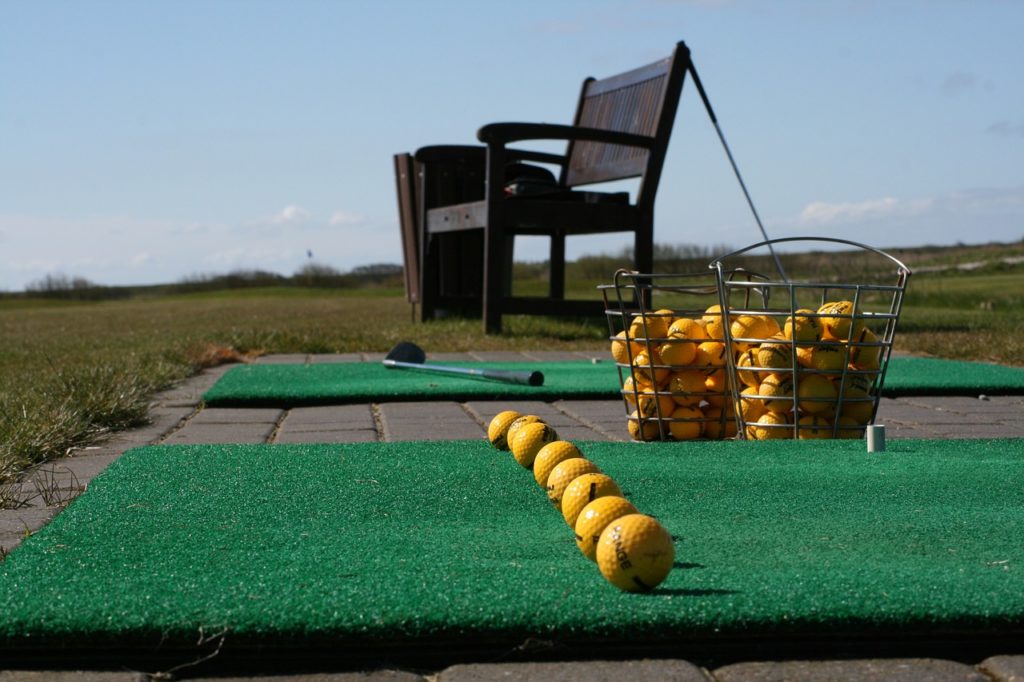 Golf is a difficult game to master; just ask the pros!  As with most other sports, practicing can definitely improve your level of play.  So, take a look at some of the practice facilities that you may want to consider when working on your game.
The Aqua Golf Driving Range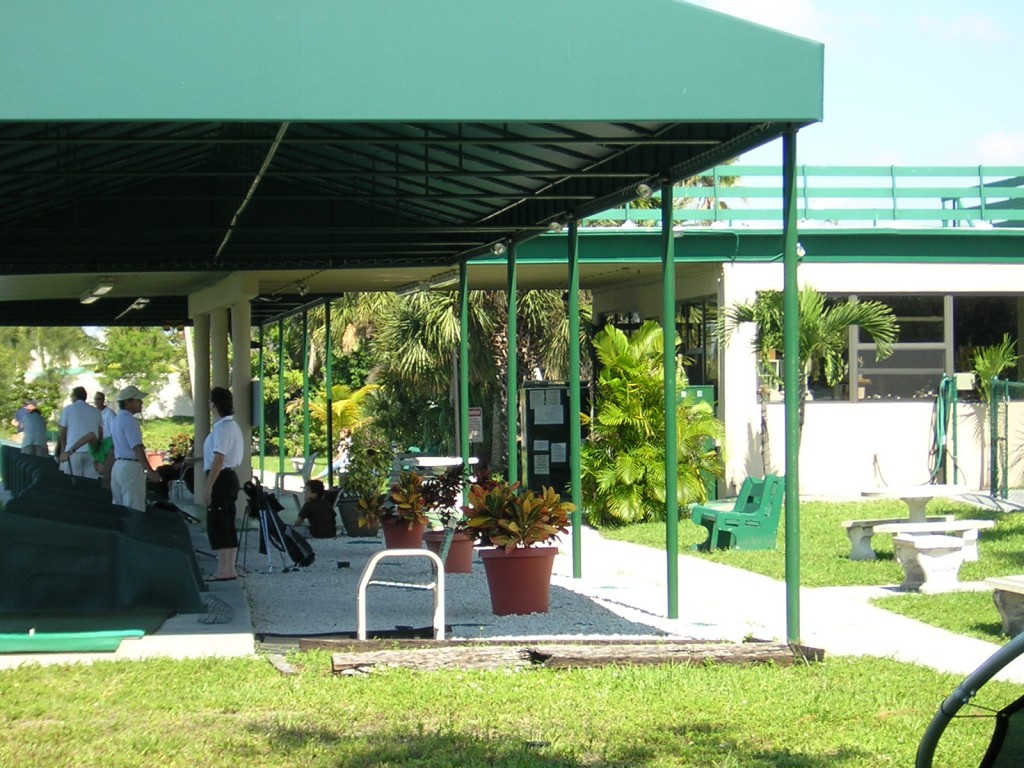 Located between Hallandale and Hollywood, this facility is designed to help you grow your game. At this self-run range, you can rent clubs and purchase balls by the basket to practice both driving and your short game. Even better, you can take a lesson while you're here.  Having a pro watch you hit ball after ball is a great opportunity.  At the on-property pro shop  you can purchase drinks and snacks in addition to golf apparel and equipment.
AllGolf at CB Smith Park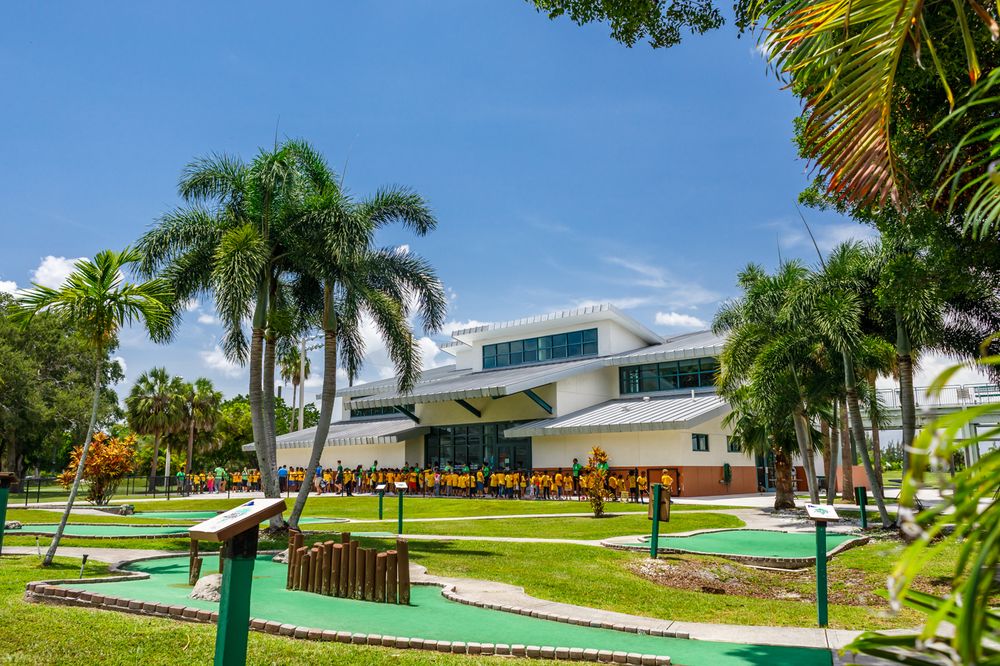 This golf practice facility at CB Smith Park in Pembroke Pines is the perfect place to work on your game.  You can play alone, with your friends or even your kids.  Check this out, the driving range is comprised of a double tier deck containing 60 stations with artificial grass. Also, a grass tee area is available.  Are you a new golfer and don't yet own clubs?  No worries, you can borrow one here.  Additionally, you can work on both your putting and sand games.  Even better, the facility is fully lit, so you can practice in the evenings.  PGA instruction is available should you be interested.  Click here  to learn more about their pricing!
GOLFTEC
New to the sport?  Frustrated with  your swing?  GOLFTEC may be the perfect place for you.  This indoor facility offers golf lessons and swing consultations.  They can even help you select clubs. Visit their website to learn more about everything they offer.
If you know of a practice facility that would help us improve our game, please share it in the comments.  You know what they say, practice makes perfect!
Broward Golf Center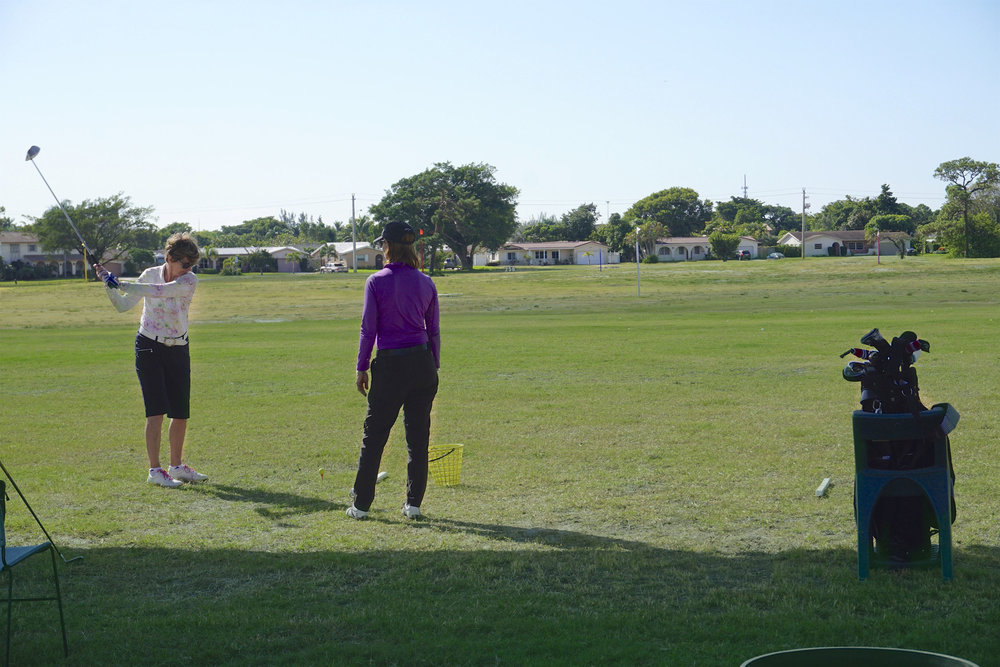 Located in Coconut Creek, this golf teaching and practice facility is on Broward College's North Campus.  It's close to the turnpike and easily accessible. The hitting tee is three acres in size and also covered by an awning so golfers are protected from the sun.  Additionally, there is a 350 yard driving range complete with LED/Halogen lamps.  The Pro shop is fantastic.  Golfers can utilize a video teaching station, purchase merchandise and take advantage of free rentals.  And, guess what? You can even arrange for lessons.  Looking for more information?  Click here!
As you can see, golf is super-popular in South Florida.  The courses are plentiful and beautiful, and you can play year-round.  If you love the game, you may be a Florida resident at heart!
Both Palm Beach and Dade counties are also home to beautiful courses, and we are centrally located; it's easy to get to them all!
In addition, there are countless other golf courses in South Florida.  In Broward private clubs, some affiliated with hotels, other with private gated communities are located throughout the county.  If you are interested in living in a community like this, we can help you identify your best fit.
Your real estate agent is the best source of information about the local community and real estate topics. Give The Wilson Group a call today at 954-818-6092 to learn more about local areas, discuss selling a house, or tour available homes for sale.