Living in South Florida, in general, and Broward County specifically is simply amazing. First, it is centrally located in the southern portion of the state.  Cities and towns in Broward are close to Fort Lauderdale and Miami. And, they are only a short drive from Boca Raton and Delray Beach. Obviously, there is so much to do and see.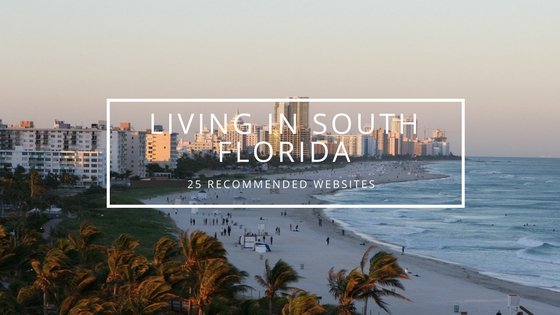 We understand that relocating is a major life decision. Financially, perhaps, it is one of the biggest of your life. That said, it is important to truly understand the area in which you are looking. Subsequently, while it is important to visit and see everything first hand; we do believe that the internet is an amazing tool. It can help you narrow down where you want to live as well as provide important information on the areas in which you are looking.
Below are a list of 25 websites that we believe will provide you with important information on living in Broward County. Check them out and let us know what you think in the comments below. If you think we have missed something, please share it so we can all benefit!
Broward County Government and Information
Moving to a new area is always challenging.  As such, we have provided a list of county/area websites that may make moving to South Florida a little bit easier.
Broward.org is the official website of Broward County.  Most noteworthy, it provides information on everything from recreational facilities, to business regulations (licenses) to government job openings and more!.
Broward County Transit:  The county has an extensive bus and tri-rail service.  Visit their website to learn about all of your options regarding public transportation.
Broward County Taxes: This link takes you to the records, tax and treasury division of Broward County.  Need information on your taxes or want to pay them?  This is where you need to be!
BCPA.net is the website for the Broward County Property Appraiser.  Make sure you visit this site to learn about the rules surrounding the Homestead Exemption. In addition, this is also a great location if you unfortunately sustain damage in a hurricane. They even offer an e-newsletter to subscribers.  Also, it provides details on property tax savings and classifications.
Broward County Clerk of Courts is where you want to go for information on marriage licenses, traffic tickets, jury duty, passports and so much more.
The Broward County School system is one of the largest in the country.  Visit their website to understand which schools serve specific geographic areas, feeder plans, special programs, transportation and more.  The site also hosts the district calendar, which can provide you with school start and end dates as well as information on breaks and early release days.  If you have school-age children and either live in Broward or are looking to move here, this site is invaluable.
Private Schools:  While Broward County is home to some of the best public schools in the state, private schooling is still important to some families.  This website provides a list of the private schools in Broward.
Broward College is a great place to pursue a degree or even just take some classes in areas which may be of interest. They have multiple campuses throughout the county.  Visit their website and learn what they have to offer.
Florida DMV is where you need to be in order to to update your drivers license.  Visit this site for information on how to do this.  We suggest you use their appointment service to minimize waiting time.
Florida Power and Light is the company that provides power to over 10 million people in the State of Florida.  You can stop by their site and learn how to turn your power on and arrange for billing.  Additionally, you can pay your bill here  and even learn about available employment.
Hospitals, locally, provide a broad range of services to people in Broward County.  They can also be a great reference point for identifying doctors for new residents.  The county has many hospitals; take a look and see which are convenient to you.
General Information
Below we have provided some general websites that may make your every day life just a little bit easier.
Weather.com is a site that can provide weather, by city, hourly, daily and weekly. You can check it to see if you need an umbrella for the 5:00 soccer game, or to determine if it's going to be sunny at the beach. It's also great when you are looking to travel. Heading to Atlanta for the weekend? Access their weather and determine if you will need a jacket!
Yelp.com can help you identify restaurants, stores and other local businesses. You can access restaurant menus, link to their websites and even check out some reviews. This site provide great insight and is easy to navigate. Use it to check out some of the amazing restaurants in the town you are looking to live  and the surrounding areas.
The Sun Sentinel is one of the area's largest newspapers.  The paper publishes daily, with both hard copy delivery and "e-newspaper" services available.  It covers both national and local stories and has a special focus each day.
Miami Herald:  This newspaper, while headquartered in Miami, provides a great deal of news and information for Broward as well.  Be sure to check it out. Remember, Miami is just a short drive away.
South Florida Business Journal:  The business community in South Florida is a busy one.  With so much going on, keeping your finger on the pulse is important. This business dedicated publication covers all the business news in the South Florida area.
The Fort Lauderdale Chamber of Commerce serves the south Florida business community and provides a plethora of information including housing data, job information, events and more.  They are a great resource for both new residents and those who have been here for years.
Life in South Florida
There is so much to do in South Florida.  Take a look at website for some of our favorites. If you think we have left something out, please share it in the comments!
BB&T Center:  Home of the Florida  Panthers and host to a plethora of shows and concerts, the BB&T center is located in Sunrise, Florida, in southwest Broward County.  Visit their website to learn their upcoming schedule and to purchase tickets to anything which may interest you and your family.
The Broward Center for the Performing Arts is located in Fort Lauderdale.  This beautiful complex hosts Broadway Shows, children's shows, special events and more.  It is a lovely place to spend an evening.  They offer a broad range of show packages, or you can purchase tickets individually.
Broward County Beaches: South Florida in general, and specifically Broward County, is home to some of the most beautiful beaches in the country.  Check out this website to learn about some truly special places.
Professional Sports fans feel at home in Florida, particularly south Florida.  Check out this website, which provides information on all professional sports in the state.  You can link directly to the sites of your favorite local teams.
Broward County Parks offer countless opportunities to enjoy the outdoors.  There are so many different parks which offer a variety of things to do.  Visit this website and plan a host of fun days!
The Broward County Library system is amazing.  There are a number of locations, all of which offer different events for both adults and children.  Definitely make it a point to check out all that they do.
Sawgrass Mills Mall is one of the largest shopping malls in south Florida.  With over 350 stores and outlets, this mall has something for everyone (including movies, restaurants and amusements).  Visit their website. If you can't find it here, it may not exist!
Everglades National Park
is in our backyard! There is so much to learn (about animals and nature) and so many fun ways to do it.  We encourage you to explore this park and take advantage of all that it has to offer.
Living in South Florida, 25 Recommended Websites
Well, there you have it:  twenty-five websites to visit if you're looking to move to the area, if you've just relocated here or even if you have been here for years.  We know we didn't list every great site.  We don't have the time (or the space).  That said, we hope these provide you some valuable information on living in beautiful Broward County.
Your real estate agent is the best source of information about the local community and real estate topics. Give The Wilson Group a call today at 954-818-6092 to learn more about local areas, discuss selling your home, or tour available homes for sale.